Company: Why Choose Liquid Anvil?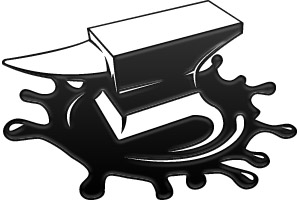 friggin' graphic designers. sheesh.
Let's be honest – there are thousands of agencies, consultancies and marketing companies out there that'll sell you a site or an identity. Some produce in house and some contract out [occasionally, to us]. And all of them cost.
You can also go the DIY route. There are programs designed to design & develop a web site "with a few easy clicks", logo creation programs, and marketing how-to books & seminars by the score. And maybe you get some help from your sister's kid's best friend, who's "good with computers" to take some of the load off.
So why choose Liquid Anvil?
Because you need it done right. Because you need it done now. Because you need it done for a reasonable price. And because you need a partner committed to your success with knowledge of and experience in the brave new media world.
That'd be us.
Local. National. Global.
We're deeply committed to our new home community – Portland, Maine. We're supportive of local businesses and dedicated to helping Portland grow.
Our client base and affiliations span the nation. We've built for, designed to and worked with customers from one side of the country to the other, and we belong to professional organizations that are national in scope.
Our range and experience is international. We've special designed interfaces for six of seven continents [and, oddly enough, Antarctica is one of those on the list, not off] and we understand the global reach modern media has. And we can use that understanding to help you reach a wider client base.
Dedication.
Liquid Anvil's dedication to our clients, their businesses and their goals is matchless. We understand what an incredibly important decision and undertaking your marketing initiative is. Whether you're refreshing a brand or web presence, launching a new product or starting from the ground up, we bring that dedication to your project. We'll help you find your way, smooth out the process, spare you the technical gibberish and make the procedure as quick and cost-effective as possible.
Simply put, we're dedicated to helping you. Your success is our success - and we love success.
Passion.
This is what we do. And we really, really like what we do.
That passion can be seen in all our work. We're not going to sell you a substandard product, a shoddy site, an inferior logo, a subpar technology suite or a third-rate marketing plan just to get you out the door and a cheque in the bank. You're going to get the best we can offer, no matter how small or large your project. Anything less would be selling ourselves short - and worse, selling you short.
Value.
Liquid Anvil's value for money spent is unequaled. We don't have fancy offices or vice-presidents pulling salary and perks for playing golf. What we do have is a dedicated core of seasoned professionals who produce - and that keeps your [and, frankly, our] costs down.
And please rest assured that one of the cost-cutting measures we have not implemented is offshoring. All of our work is done right here in house - and we won't have it any other way. You'll never have to worry about "Bob" the Technical Support Guy ordering curry off-mike in Hindi.