Company: What's a Liquid Anvil, Anyway?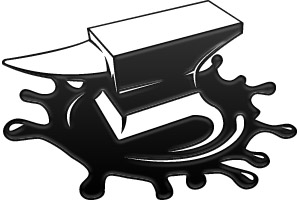 friggin' graphic designers. sheesh.
We could tell you we ruminated heavily on appropriate keywords that gave a strong yet fluid presence to a company forged to create an entity that could serve businesses more effectively with a unified marketing presence. Then, after rigorous focus group testing, we were finally able to create a brand and identity that met our exacting criteria in order to adequately portray our core values and focus.
Riiiiiiiiiight.
Or we could say we locked the creative department in a room with some hamburgers, a bag of Funyuns™, a twelver of Labatts Blue, a large inflatable hammer, an internet connection and a yo-yo just to see if they could come up with something cool with a free .COM and build a logo to suit.
This'd probably be a bit closer to the truth.
Either way, we're extremely pleased with the end result. And when you see our work, we think you will be too.
Liquid Anvil represents a company with fluid capabilities and a strong foundation -- and we can't think of a better way to approach business in the modern world. Plus, the logo is pretty friggin' cool, no?
And since arriving home we've switched to Shipyard & Gritty's, so there's no telling what we might come up with next.